DIFFERENT CHARACTERISTICS OF INFECTION WITH MYCOBACTERIA IN GRANULOMA CELLS FROM MICE WITH LATENT TUBERCULOSIS INFECTION AND IN BONE MARROW AND PERITONEAL MACROPHAGES AFTER BCG VACCINE APPLICATION IN VITRO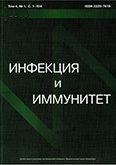 Authors: Ufimtseva E.G.1
Affiliations:

Institute of Biochemistry, SB RAMS, Novosibirsk

Issue: Vol 4, No 3 (2014)
Pages: 213-220
Section: ORIGINAL ARTICLES
Cite item
Abstract
The aim of the study was to compare the content of BCG-mycobacteria in granulomas obtained from various organs of BALB/c mice with latent tuberculosis after in vivo exposure to BCG vaccine and in mouse bone marrow and peritoneal macrophages after BCG infection in vitro. The granuloma cells obtained from mice through 20 days, one and two months after their BCG-infecting in vivo were differed with respect to both the number of granulomas with macrophages containing the defined numbers of BCG-mycobacteria and the quantity of cells with the defined numbers of bacilli in granulomas. However, in the preparations obtained from each mice, granuloma macrophages contained solitary BCGmycobacteria. At the same time, a shorter acute infection of mouse peritoneal and bone marrow macrophages by BCG vaccine resulted in considerable growth of bacilli in the host cells for 5 days in the culture in vitro. Therefore, granuloma macrophages could control BCG infection both in mice with latent tuberculosis in vivo and in the ex vivo culture, on the contrary, the bone marrow and peritoneal macrophages were not capable to control the BCG infection in the culture in vitro.
About the authors
Institute of Biochemistry, SB RAMS, Novosibirsk
Author for correspondence.
Email: ufim1@ngs.ru

PhD (Biology), Senior Researcher, Laboratory of Molecular Mechanisms of Cell-Cell Interactions, Institute of Biochemistry, RAMS, Siberian Branch
Russian Federation
References
Уфимцева Е.Г. Клетки с микобактериями в гранулематозных образованиях мышей на латентной стадии туберкулезной инфекции в культуре ex vivo // Инфекция и иммунитет. 2013. Т. 3, № 3. C. 229–234. [Ufimtseva E.G. Kletki s mikobakteriyami v granulematoznykh obrazovaniyakh myshei na latentnoi stadii tuberkuleznoi infektsii v kul'ture ex vivo [The cells with mycobacteria in granulomatous inflammatory aggregates from mice with latent tuberculous infection in ex vivo culture]. Infekciya i immunitet = Infection and Immunity, 2013, vol. 3, no. 3, pp. 229–234.].
Adams K.N., Takaki K., Connolly L.E., Wiedenhoft H., Winglee K., Humbert O., Edelstein P.H., Cosma C.L., Ramakrishnan L. Drug tolerance in replicating mycobacteria mediated by a macrophage-induced efflux mechanism. Cell, 2011, vol. 145, no. 1, pp. 39–53.
Ahmad S. Pathogenesis, immunology, and diagnosis of latent Mycobacterium tuberculosis infection. Clin. Develop. Immun., 2011, vol. 2011, 17 p.
Aldridge B.B., Fernandez-Suarez M., Heller D., Ambravaneswaran V., Irimia D., Toner M., Fortune S.M. Asymmetry and aging of mycobacterial cells lead to variable growth and antibiotic susceptibility. Science, 2012, vol. 335, no. 6064, pp. 100–104.
Behr M.A., Wilson M.A., Gill W.P., Salamon H., Schoolnik G.K., Rane S., Small P.M. Comparative genomics of BCG vaccines by whole-genome DNA microarray. Science, 1999, vol. 284, no. 5419, pp. 1520–1523.
Flynn J.L., Chan J., Lin P.L. Macrophages and control of granulomatous imflammation in tuberculosis. Mucos. Imm., 2011, vol. 4, no. 3, pp. 271–278.
Gutierrez M.G., Master S.S., Singh S.B., Taylor G.A., Colombo M.I., Deretic V. Autophagy is a defense mechanism inhibiting BCG and Mycobacterium tuberculosis survival in infected macrophages. Cell, 2004, vol. 119, no. 6, pp. 753–766.
Jordao L., Vieira O.V. Tuberculosis: new aspects of an old disease. Int. J. Cell Biol., 2011, vol. 2011, 13 p.
Muсoz-Elнas E.J., Timm J., Botha T., Chan W.-T., Gomez J.E, McKinney J.D. Replication dynamics of Mycobacterium tuberculosis in chronically infected mice. Infect. Immun., 2005, vol. 73, no. 1, pp. 546–551.
Tobin D.M., Ramakrishnan L. Comparative pathogenesis of Mycobacterium marinum and Mycobacterium tuberculosis. Cell. Microbiol., 2008, vol. 10, no. 5, pp. 1027–1039.
Van der Wel N., Hava D., Houben D., Fluitsma D., van Zon M., Pierson J., Brenner M., Peters P.J. M. tuberculosis and M. leprae translocate from the phagolysosome to the cytosol in myeloid cells. Cell, 2007, vol. 129, no. 7, pp. 1287–1298.