IMMUNOMODULATORS IN OPPORTUNISTIC INFECTIONS TREATMENT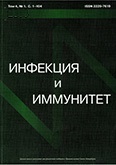 Abstract
Abstract. The immune status and the level of specific antibodies to Cytomegalovirus (121 patients) or Mycoplasma pneumoniae (129 patients) were tested in 250 patients aged 19–56 years old. This cohort was divided for three groups. Seventy eight patients with low level of CD3+CD4+ lymphocytes and normal rates of other parameters of immune status were jointed in Group 1. The second group was presented by 85 patients with low level of CD3+CD4+ and high level of CD3+CD8+ lymphocytes. Eighty seven patients with lymphopenia were distinguished in Group 3. All patients were treated with antiviral or antibacterial and immunomodulatory drugs. Three schemes of immunomodulatory therapy including imunofanum, polyoxidonium, cycloferonum, glutoxim, immunomax in different combination were used. In three weeks after treatment in 72,4% of patients no clinical symptoms as well as normalization of immune status indices and decrease of specific antibodies titers were observed. Sixty nine patients reported improvement of subjective health status, however they had high level of specific antibodies. Immunological examination of these patients after second course of immunomodulatory therapy confirmed their convalescence. It was shown that the condition of immune status determines effect of the different immunomodulators.
Keywords
About the authors
ФБУН Московский НИИ эпидемиологии и микробиологии им. Г.Н. Габричевского, Москва
Author for correspondence.
Email: toptyginaanna@rambler.ru

к.м.н., ведущий научный сотрудник лаборатории цитокинов
125212, Москва, ул. Адмирала Макарова, 10
Russian Federation
ФБУН Московский НИИ эпидемиологии и микробиологии им. Г.Н. Габричевского, Москва
Email: toptyginaanna@rambler.ru
Russian Federation
ФБУН Московский НИИ эпидемиологии и микробиологии им. Г.Н. Габричевского, Москва
Email: toptyginaanna@rambler.ru
Russian Federation
References
Cottone M., Pietrosi G., Martorana G., Casa A., Pecoraro G., Oliva L., Orlando A., Rosselli M., Rizzo A, Pagliaro L. Prevalence of cytomegalovirus infection in severe refractory ulcerative and Crohn's colitis // Am. J. Gastroenterol. — 2001. — Vol. 96. — P. 773–775.
Docke W.D., Prosch S., Fietze E., Kimel V., Zuckermann H., Klug C., Syrbe U., Kruger D.H., Baehr R. von, Volk H.D. Cytomegalovirus reactivation and tumour necrosis factor // Lancet. — 1994. — Vol. 343. — P. 268–269.
Docke W.D., Kiessling C., Worm M., Friedrich M., Pruss A., Weitz M., Prosch S., Kern F., Volk H.D., Sterry W., Asadullah K. Subclinical activation of latent cytomegalovirus (CMV) infection and anti-CMV immune response in patients with atopic dermatitis // Br. J. Dermatol. — 2003. — Vol. 148. — P. 954–963.
Hernando-Sastre V. Macrolide antibiotics in the treatment of asthma. An update // Allergol. Immuno pathol. (Madr.). — 2010. — Vol. 38. — P. 92–98.
Kutza A.S., Muhl E., Hackstein H., Kirchner H., Bein G. High incidence of active cytomegalovirus infection among septic patients // Clin. Infect. Dis. — 1998. — Vol. 26. — P. 1076–1082.
Mocarski E.S., Shenk T., Pass R. Cytomegaloviruses // Fields Virology. Vol. 2; ed. D. Knipe, P. Howley. — Fifth ed. — Lippincott Williams and Wilkins, 2007. — P. 2701–2772.
Muller L. von, Klemm A., Durmus N., Weiss M., Suger-Wiedeck H., Schneider M., Hampl W., Mertens T. Cellular immunity and active human cytomegalovirus infection in patients with septic shock // J. Infect. Dis. — 2007. — Vol. 196. — P. 1288–1295.
Papadakis K.A., Tung J.K., Binder S.W., Kam L.Y., Abreu M.T., Targan S.R., Vasiliauskas E.A. Outcome of cytomegalovirus infections in patients with inflammatory bowel disease // Am. J. Gastroenterol. — 2001. — Vol. 96. — P. 2137–2142.
Reeves M.B., MacAry P.A., Lehner P.J., Sissons J.G., Sinclair J.H. Latency, chromatin remodeling, and reactivation of human cytomegalovirus in the dendritic cells of healthy carriers // Proc. Natl. Acad. Sci. USA. — 2005. — Vol. 102. — P. 4140–4145.
Taylor-Wiedeman J., Sissons J.G., Borysiewicz L.K., Sinclair J.H. Monocytes are a major site of persistence of human cytomegalovirus in peripheral blood mononuclear cells // J. Gen. Virol. — 1991. — Vol. 72. — P. 2059–2064.
Soderberg-Naucler C., Fish K.N., Nelson J.A. Reactivation of latent human cytomegalovirus by allogeneic stimulation of blood cells from healthy donors // Cell. — 1997. — Vol. 91. — P. 119–126.
Yoshino T., Nakase H., Ueno S., Uza N., Inoue S., Mikami S., Matsuura M., Ohmori K., Sakurai T., Nagayama S., Hasegawa S., Sakai Y., Chiba T. Usefulness of quantitative real-time PCR assay for early detection of cytomegalovirus infection in patients with ulcerative colitis refractory to immunosuppressive therapies // Inflamm. Bowel. Dis. — 2007. — Vol. 13. — P. 1516 –1521.
Zanghellini F., Boppana S.B., Emery V.C., Griffiths P.D., Pass R.F. Asymptomatic primary cytomegalovirus inf ection: virologic and immunologic features // J. Infect. Dis. — 1999. — Vol. 180. — P. 702–707.
Ziemann M., Unmack A., Steppat D., Juhl D., Gorg S., Hennig H. The natural course of primary cytomegalovirus infection in blood donors // Vox Sang. — 2010. — Vol. 99. — P. 24–33.