EPIDEMIOLOGICAL CHARACTERISTICS OF CHRONIC VIRAL HEPATITIS IN THE RUSSIAN FEDERATION IN 1999–2009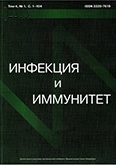 Authors: Mukomolov S.L.1, Levakova I.A.1
Affiliations:

ФГУН «Санкт-Петербургский научно-исследовательский институт эпидемиологии и микробиологии имени Пастера» Роспотребнадзора, Санкт-Петербург

Issue: Vol 1, No 3 (2011)
Pages: 255-262
Section: ORIGINAL ARTICLES
Cite item
Abstract
Abstract. The information concerning incidence, prevalence and morbidity of chronic viral hepatitis (CVH) in the territories of the Russian Federation for the period 1999–2009 is presented in the analytical review. The special attention is paid to multiyear dynamics of CVH registration, to diseases distribution by the Federal areas and separate territories as well as to CVH incidence in different age groups.
About the authors
ФГУН «Санкт-Петербургский научно-исследовательский институт эпидемиологии и микробиологии имени Пастера» Роспотребнадзора, Санкт-Петербург
Author for correspondence.
Email: s.mukomolov@mail.ru

д.м.н., профессор, зав. лабораторией вирусных гепатитов
197101, Санкт-Петербург, ул. Мира, 14
Russian Federation
ФГУН «Санкт-Петербургский научно-исследовательский институт эпидемиологии и микробиологии имени Пастера» Роспотребнадзора, Санкт-Петербург
Email: s.mukomolov@mail.ru
Russian Federation
References
Вирусные гепатиты в Российской Федерации 2009. Справочник / Под ред. Г.Г. Онищенко, А.Б. Жебруна. — СПб.: НИИЭМ им.Пастера, 2009. — 220 с.
Мукомолов С.Л., Ананьев В.А., Шляхтенко Л.И., Нечаев В.В., Евдокимова Т.В. Эпидемиологическая характеристика и значение носителей поверхностного антигена вируса гепатита В // Журн. микробиол. эпидемиол. иммунобиол. — 1984. — № 12. — С. 76–80.