ANALYSIS OF ELECTRONIC MONITORING SYSTEMS FOR INFLUENZA AND ARVI IN KYRGYZSTAN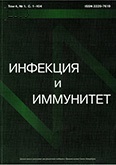 Authors: Nurmatov Z.S.1
Affiliations:

720000, The Kyrgyz Republic, Bishkek, Logvynenko str., 8. Ministry of Health of Kyrgyz Republic

Issue: Vol 5, No 1 (2015)
Pages: 71-78
Section: ORIGINAL ARTICLES
ID: 276
Cite item
Abstract
There are 4 programs of electronic monitoring over influenza and ARI in the Kyrgyz Republic. The computer monitoring of infectious diseases (CMID) was implemented in the country since 2005. Three more advanced software for the electronic surveillance over ARI and influenza were introduced in 2010–2011. The analysis of monthly data on influenza and ARI cases is possible in 49 cities and districts of the country using CMID. At the beginning of 2010, the data started to be transferred to the World Health Organization on a weekly basis and to be published at the EuroFlu site. The implementation of new program of sentinel surveillance sites allowed to obtain information about the incidence and etiology of influenza and ARI on-line. Since 2012 the electronic system of monitoring, mapping and analysis (MMA) was introduced in all regions of the country for assessment of the epidemiological situation; this system allows to transfer data by mobile phones . The use of different programs improved the prompt access to information, provided an opportunity to analyze the epidemical situation in real-time regime. 
About the authors
720000, The Kyrgyz Republic, Bishkek, Logvynenko str., 8. Ministry of Health of Kyrgyz Republic
Author for correspondence.
Email: z.nurmatov@mail.ru

PhD (Medicine), Epidemiologist, Department of Disease Prevention and State Sanitary Epidemiological Surveillance Ministry of Health of Kyrgyz Republic, Bishkek, Kyrgyz Republic. 
Russian Federation
References
Жумагулова А.Ш., Землянухина Л.С., Джангазиева А.А., Сыдыкова А.Б. Особенности течения пандемического гриппа А (H1N1)v (По материалам республиканской клинической инфекционной больницы) // Здравоохранение Кыргызстана. 2010. No 4. С. 112–114. [Djumagulova A., Zemlianuchina L., Djangazieva A. Features of pandemic influenza A (H1N1)v (Materials of Republic Clinical infectious Diseases, Bishkek). Zdravookhranenie Kyrgyzstana = Health of Kyrgyzstan, 2010, no. 4, pp. 112–114. (In Russ.)]
Касымбекова К.Т., Нурматов З.Ш., Оторбаева Д.С. Молекулярно-генетическая диагностика гриппа в Кыргызской Республике // Здравоохранение Кыргызстана. 2010. No 4. С. 115–119. [Kasymbekova K.T., Nurmatov Z.S., Otorbaeva D.S. Molecular-genetic investigations of influenza in the Kyrgyz Republic. Zdravookhranenie Kyrgyzstana = Public Health in Kyrgyzstan, 2010, no. 4, pp. 115–119. (In Russ.)]
Нурматов З.Ш. Дозорный эпидемиологический надзор за гриппом и ОРВИ в Кыргызской Республике // Наука и новые технологии. 2013. No 3. С. 80–84. [Nurmatov Z.S. Sentinel surveillance of influenza and ARVI in the Kyrgyz Republic. Nauka i novye tekhnologii = Science and New Technologies, 2013, no. 3, pp. 80–84. (In Russ.)]
Оторбаева Д.С. Дозорный эпиднадзор за тяжелыми и острыми респираторными инфекциями и гриппоподобными заболеваниями с 2008 по 2013 годы в Кыргызской Республике // Вестник Кыргызской государственной медицинской академии им. И.К. Ахунбаева. 2013. No 3, прил. No 1. С. 140–144. [Otorbaeva D.S. Sentinel surveillance for severe and acute respiratory infections and influenza-like illness from 2008 to 2013 in the Kyrgyz Republic. Vestnik Kyrgyzskoi gosudarstvennoi meditsinskoi akademii im. I.K. Akhunbaeva = Herald of the Kyrgyz State Medical Academy named after I.K. Ahunbaev, 2010, no. 3, suppl. no. 1, pp. 140–144. (In Russ.)]