MECHANISM OF GENESIS OF NEOPLASIA AT DEFEAT OF CERVICAL EPITHELIUM BY HIGH-RISK HUMAN PAPILLOMAVIRUS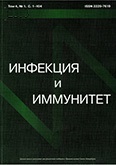 Authors: Ershov V.A.1
Affiliations:

Municipal Clinical Oncology Dispensary, St. Petersburg

Issue: Vol 4, No 2 (2014)
Pages: 167-172
Section: PROCEEDINGS OF THE III SYMPOSIUM WITH INTERNATIONAL PARTICIPATION «HUMAN PAPILLOMAVIRUS INFECTION AND CANCER…»
ID: 168
Cite item
Abstract
Abstract. The 1044 biopsies from HPV-positive cervical epithelia were tested by cytological, histological, immunomorphological methods and PCR. One of the mechanisms of genesis of cervical cancer is damage of mitotic apparatus owing to association E7 HPV with NuMA 1, leads to infringement of distribution of chromosomes and virus DNA between daughter cells, shown pathological mitosis and integration of virus DNA. Infringements of differentiation of cells at CIN testified to their delay in pre-mitotic phases of cellular cycle unlike SCC which cells, having finished mitosis, are capable to the differentiation, accompanied by infringement of intercellular adhesion and neoanginesis. Genesis koilocytes and the cells of leukoplakia it is caused by defeat HPV basal cells.
Keywords
About the authors
Municipal Clinical Oncology Dispensary, St. Petersburg
Author for correspondence.
Email: goronkod@zdrav.spb.ru

PhD (Medicine), Pathologist of Pathological Department
198255, Russian Federation, St. Petersburg, Veteranov pr., 56
Russian Federation
References
Ершов В.А., Чирский В.С., Вязовая А.А., Нарвская О.В., Лисянская А.С. Активность процессов пролиферации и апоптоза при интеграции в цервикальный эпителий ДНК вируса папилломы человека 16 генотипа // Архив патологии. — 2013. — Т. 75, № 2. — С. 16–19. Ershov V.A., Chirskiy V.S., Vyazovaya A.A., Narvskaya O.V., Lisyanskaya A.S. Aktivnost` protsessov proliferatsii i apoptoza pri integratsii v tservikal`nyy epiteliy DNK virusa papillomy cheloveka 16 genotipa [Activity of processes of proliferation and apoptosis at integration of DNA of Human papilloma viruses 16 genotype in epithelium of cervix uteri]. Arkhiv patologii — Archives of Pathology, 2013, vol. 75, no. 2, pp. 16–19.