THE CELLS WITH MYCOBACTERIA IN GRANULOMATOUS AGGREGATES FROM MICE WITH LATENT TUBERCULOUS INFECTION IN EX VIVO CULTURE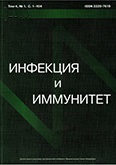 Authors: Ufimtseva E.G.1
Affiliations:

The Institute of Biochemistry of the Siberian Branch of the Russian Academy of Medical Sciences, Novosibirsk

Issue: Vol 3, No 3 (2013)
Pages: 229-234
Section: ORIGINAL ARTICLES
ID: 133
Cite item
Abstract
Abstract. The aim of this study was to obtain ex vivo monolayer culture cells migrated from individual granulomas isolated from the spleens of the Balb/c line mice through 1–2 months after BCG vaccine infection. The second goal was to evaluate influence of different types of cells in the development of granulomatic inflammation and analysis of BCG bacteria content in these cells in the latent stage of tuberculosis. Granulomas were presented by macrophages in general. The number of granulomas was varied as in one mouse as between mice. Granulomas contained also dendritic cells (in average 10% from macrophages of granulomas) and lymphocytes. In some granulomas fibroblasts, neutrophils, eosiniphils, multinuclear cells of Pirogov–Langhans, megacariocytes and platelets were observed in all stages of infection. The number of these cells was also varied between granulomas. The acid staining BCG bacteria were only detected in macrophages, dendritic cells and Pirogov–Langhans cells of mice granulomas. Mice were different as by number of cells with BCG bacteria in granulomas as by number of granulomas with BCG-containing cells. The proposed model of granuloma cells of mice in ex vivo culture can be used to study interaction between host cells and mycobacteria to find new ways and methods of influence to intracellular pathogens in latent stage of tuberculosis. 
About the authors
The Institute of Biochemistry of the Siberian Branch of the Russian Academy of Medical Sciences, Novosibirsk
Author for correspondence.
Email: ufim1@ngs.ru

PhD (Biology), Senior Research Associate, Laboratory of Molecular Mechanisms of Cell-Cell Interactions
630117, Russian Federation, Novosibirsk, Timakova str., 2
Russian Federation
References
Апт А.С., Кондратьева Т.К. Туберкулез: патогенез, иммунный ответ и генетика хозяина // Молекулярная биология. — 2008. — Т. 42, № 5. — С. 880–890. Apt A.S., Kondrat`eva T.K. Tuberkulez: patogenez, immunnyy otvet i genetika khozyaina [Tuberculosis: pathogenesis, immune response and host genetics]. Molekulyarnaya biologiya — Molecular Biology, 2008, vol. 42, no. 5, pp. 880–890.
Egen J.G., Rothfuchs A.G., Feng C.G., Winter N., Sher A., Germain R.N. Macrophage and T cell dynamics during the development and disintegration of mycobacterial granulomas. Immunity, 2008, vol. 28, no. 2, pp. 271–284.
Flynn J.L., Chan J., Lin P.L. Macrophages and control of granulomatous imflammation in tuberculosis. Mucosal. Immunol., 2011, vol. 4, no. 3, pp. 271–278.
Gutierrez M.G., Master S.S., Singh S.B., Taylor G.A., Colombo M.I., Deretic V. Autophagy is a defense mechanism inhibiting BCG and Mycobacterium tuberculosis survival in infected macrophages. Cell, 2004, vol. 119, no. 6, pp. 753–766.
Hart D.N.J. Dendritic cells: unique leukocyte populations which control the primary immune response. Blood, 1997, vol. 90, no. 9, pp. 3245–3287.
Hogan L.H., Markofski W., Bock A., Barger B., Morrissey J.D., Sandor M. Mycobacterium bovis BCG-induced granuloma formation depends on gamma interferon and CD40 ligand but does not require CD28. Infect. Immun., 2001, vol. 69, no. 4, pp. 2596–2603.
Hogan L.H., Macvilay K., Barger B., Co D., Malkovska I., Fennelly G., Sandor M. Mycobacterium bovis strain Calmette-Gu rininduced liver granulomas contain a diverse TCR repertoire, but a monoclonal T cell population is sufficient for protective granuloma formation. J. Immunol., 2001, vol. 166, no. 10, pp. 6367–6375.
Karakousis P.C., Yoshimatsu T., Lamichhane G., Woolwine S.C., Nuermberger E.L., Grosset J., Bishai W.R. Dormancy phenotype dispayed by extracellular Mycobacterium tuberculosis within artificial granulomas in mice. J. Exp. Med., 2004, vol. 200, no. 5, pp. 645–657.
Pieters J. Mycobacterium tuberculosis and the macrophage: maintaining a balance. Cell Host Microbe, 2008, vol. 3, no. 6, pp. 399–407.
Puissegur M-P., Botanch C., Duteyrat J-L., Delsol G., Caratero C., Altare F. An in vitro dual model of mycobacterial granulomas to investigate the molecular interactions between mycobacterial and human host cells. Cell. Microbiol., 2004, vol. 6, no. 3, pp. 423–433.
Sacco R.E., Jensen R.J., Thoen C.O., Sandor M., Weinstock J., Lynch R.G., Dailey M.O. Cytokine secretion and adhesion molecule expression by granuloma T lymphocytes in Mycobacterium avium infection. Am. J. Pathol., 1996, vol. 148, no. 6, pp. 1935–1948.
Schreiber H.A., Sandor M. The role of dendritic cells in mycobacterium-induced granulomas. Immunol. Lett., 2010, vol. 130, no. 1, pp. 26–31.
Sterwart G.R., Robertson B.D., Young D.B. Tuberculosis: a problem with persistence. Nat. Rew. Microbiol., 2003, vol. 1, no. 1, pp. 97–105.
Van der Wel N., Hava D., Houben D., Fluitsma D., van Zon M., Pierson J., Brenner M., Peters P.J. M. tuberculosis and M. leprae translocate from the phagolysosome to the cytosol in myeloid cells. Cell, 2007, vol. 129, no. 7, pp. 1287–1298.