Vol 4, No 4s (2014)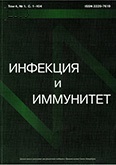 ORIGINAL ARTICLES
Abstract
Tuberculosis epidemic process is characterized by decreasing in the basic epidemiological indexes which is possible the favorable tendency. Inside the process gradual and steady changing from drug sensitive on drug resistant Mycobacterium tuberculosis population has taken place that has the consequence various organizational and medical complexities of therapy of the patients. 
Simultaneously population of tuberculosis patients is also change with increasing the proportion of patients with a combination of tuberculosis and HIV-infection. Lacks of HIV early detection, growth of HIV patients with prolonged stages of HIV and wide spreading of tuberculosis contamination among population become the reason of fast transformation latent tuberculous infection to disease. Antiviral therapy actively appointed to HIV patients does not render influence on this process yet. 
Russian Journal of Infection and Immunity. 2014;4(4s):13-18

13-18


Abstract
Tuberculosis is one of the most dangerous infections. First of all it strikes socially unprotected part of the population. The migrants which number grows in St. Petersburg, represent stress expressive category of the people reducing protective forces of immunity. Incidence of tuberculosis among migrants usually significantly exceeds incidence of permanent residents of the city. There are the difficulties connected with problems of adaptation, shortcomings of lows, finance. Thus, the influencing on ecological system of the city more than one million arrived migrants undoubtedly. It is necessary to prevent development of tuberculosis epidemic among migrants by providing with preventive inspection and complete treatment of all new cases of tuberculosis irrespective of their legal and social status. 
Russian Journal of Infection and Immunity. 2014;4(4s):18-23

18-23


Abstract
The research results database of microflora of the large intestine of 3268 «sick» and «healthy» people of all ages is analyzed. New knowledge about the formation of human microbiota is obtained, age-specific qualitative and quantitative composition of microflora of «healthy», «sick» people and infant. These data can be prerequisites for creation of probiotics. 
Russian Journal of Infection and Immunity. 2014;4(4s):23-30

23-30


THESES

31-122