NEW ASPECTS OF ANTI-INFECTION IMMUNITY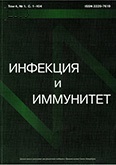 Authors: Kisseleva E.P.1
Affiliations:

НИИ экспериментальной медицины СЗО РАМН, Санкт-Петербург

Issue: Vol 1, No 1 (2011)
Pages: 9-14
Section: LECTURES
Cite item
Abstract
Abstract. Four types of adaptive immune response which are regulated by different T-cell populations, namely Th1, Th2, Th17 and T regs have been described. At the first time classification is based on the difference in transcription factors but not due to diversity of cytokines produced. Each population of T-lymphocytes possesses a set of unique transcription factors and directions of cell signaling. Each type of immune responses plays a key role in the protection against certain types of pathogens. The Th1-response is important against intracellular bacteria and fungi, the Th17 — against extracellular, the Th2 — against yeasts and protozoa. T-regulatory cells control all types of immune responses. Diversity of immune response mechanisms occurs due to involvement of different effector cells. The Th1-type of response is connected with macrophage activation, Th2-cells cooperate with B-lymphocytes as well as attract eosinophils and mast cells. Th17 lymphocytes stimulate neutrophils and epithelial cells. T-cell differentiation is directed by the cytokines produced by innate immune cells. Phagocytes recognize molecular patterns at the surface of pathogens via pattern-recognition receptors (PRR), become activated and synthesize cytokines. Pathogen plays important role in this process while instructing dendritic cells. Pathogen dials a special code from a number of phagocyte surface receptors, which is named as «combinatory» recognition. Phagocytes possess several different types of activation and synthesize different cytokines that direct T-lymphocytes to a certain type of differentiation.
Keywords
About the authors
НИИ экспериментальной медицины СЗО РАМН, Санкт-Петербург
Author for correspondence.
Email: ekissele@yandex.ru

д.м.н., ведущий научный сотрудник отдела иммунологии
197376, Санкт-Петербург, ул. Акад. Павлова, 12
Russian Federation
References
Cunha C., Romani L., Carvalho A. Cracking the Toll-like receptor code in fungal infections // Expert Rev. Anti Infect. Ther. — 2010. — Vol. 8. — P. 1121–1137.
Janeway C.A., Travers P., Walport M., Shlomchik M. Immunobiology. — Sixth edition. — New York: Garland Science Publishing, 2005.
Matzinger P. Friendly and dangerous signals: is the tissue control? // Nature Immunol. — 2007. — Vol. 8. — P. 11–13.
Paul W.E. Fundamental Immunology.— Sixth edition. — Lippincott Williams&Wilkins, 2008. — 1603 p.