ANALYSIS OF LONG-TERM DYNAMICS OF NOSOCOMIAL INFECTIONS INCIDENCE IN THE REPUBLIC OF NORTH OSSETIA-ALANIA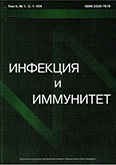 Authors: Khabalova N.R.1
Affiliations:

ФБУЗ Центр гигиены и эпидемиологии в Республике Северная Осетия-Алания, г. Владикавказ

Issue: Vol 3, No 1 (2013)
Pages: 73-78
Section: ORIGINAL ARTICLES
ID: 127
Cite item
Abstract
Abstract. Nosocomial infections occur in 5–20% of hospitalized patients. Officially, from 50 to 60 thousand cases of nosocomial infections are annually reported in the Russian Federation. The rapid development of invasive medical techniques, inappropriate use of antibiotics, instability of the sanitary-epidemiological, socio-economic, sociopolitical and socio-demographic situations could be considered as prerequisites for the increasing of many infectious diseases, including nosocomial infections. The detailed epidemiological analysis of nosocomial infections incidence at regional level provides the most complete picture of epidemiological situation and determines the tactics of surveillance and infection control. The aim of this study was to evaluate long-term dynamics of nosocomial infections incidence in the Republic of North Ossetia-Alania. The study of epidemic process manifestations was based on the retrospective analysis of incidence from 1993 to 2010.
About the authors
ФБУЗ Центр гигиены и эпидемиологии в Республике Северная Осетия-Алания, г. Владикавказ
Author for correspondence.
Email: shtaly@yandex.ru

врач-эпидемиолог
362021, г. Владикавказ, ул. Николаева, 26а
Russian Federation
References
Внутрибольничные инфекции: современная эпидемиология и профилактика // Инфекция и иммунитет. — 2012. — Т. 2, № 1–2: Итоги и перспективы обеспечения эпидемиологического благополучия населения Российской Федерации: материалы X съезда Всерос. науч.-практ. о-ва эпидемиологов, микробиологов и паразитологов. – С. 470–501.
Концепция профилактики внутрибольничных инфекций. — 1999 г.
Концепция профилактики инфекций, связанных с оказанием медицинской помощи. — 2011 г.
О профилактике внутрибольничных инфекций: Постановление главного государственного санитарного врача РФ от 29.11.2011 г.