IN VITRO METHOD FOR EXPRESSION OF TOXIN PRODUCTION IN NON-TOXIGENIC CORYNEBACTERIUM SPP. WITH "SILENT" TOX-GENE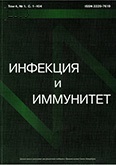 Authors: Gabrielyan S.A.1
Affiliations:

National Public Health Institute named after S.Kh. Avdalbekian, Ministry of Health, Yerevan, Armenia 0051, Armenia, Yerevan, Komitasa str., 49, 4. Phone: (3741) 23-69-01

Issue: Vol 4, No 4 (2014)
Pages: 375-380
Section: SHORT COMMUNICATIONS
Cite item
Abstract
The «in vitro method» for expression of toxin-production by phenotypically non-toxigenic strains of C. diphtheriae containing the "silent" toxin gene has been developed. The method can be characterised as rapid, economical, not demanding use of experimental animals, available to practical and scientific laboratories. Optimal conditions using this method were defined: nutrient mediums, frequency rate of passages, which provided restoration of toxin production. This method allowed to restore toxin-production in 10 out of 18 tested strains of C. diphtheriae with the "silent" toxin gene. Moreover, there was an increase of toxin roduction of by C. ulcerans and C. diphtheriae var. intermedius to the level allowing to detect toxin in the standard tests. The phenotype of a toxin-producing was defined by the Elek-test and ICS (immunechromatography set).
About the authors
National Public Health Institute named after S.Kh. Avdalbekian, Ministry of Health, Yerevan, Armenia 0051, Armenia, Yerevan, Komitasa str., 49, 4. Phone: (3741) 23-69-01
Author for correspondence.
Email: silva.gabrielyan.53@mail.ru

PhD (Medicine), Associate Professor, Head of the Scientific and Practical Centre of Microbiological Researches, National Institute of Health named after Academician S.Kh. Avdalbekyan, Ministry of Health, Republic of Armenia, Yerevan,
Armenia.
Russian Federation
References
Габриелян С.А. Некоторые биологические характе ристики Ps. aeruginosa и их значение для лабораторной 1. диагностики: автореф. дис. … канд. мед. наук. М., 1985. 23 с. [Gabrielyan S.H. Several biological characteristics of Ps. aeruginosa and their significance for laboratory diagnostics. Autoref. cand. med. sci. diss. Moscow, 1985, 23 p.]
Метод in vitro восстановления токсинопродукции фенотипически нетоксигенных штаммов C. diphtheriae, содержащих «молчащий» ген токсигенности: патент на изобретение № 1852 А2, 15.12.2006 г. / Габриелян С.А. [In vitro method for expression of toxin production in non-toxigenic Corynebacterium spp. with "silent" tox-gene. Patent invention, no. 1852 A2, 15.12.2006 / Gabrielyan S.H.]
Падейская Е.Н. Производные хиноксалина и сульфа ниламида в химиотерапии бактериальных инфек ций: дис. …д-ра фарм. наук. М., 1983. 41 с. [Padeyskaya E.N. Derivatives of quinoxaline and sulfanilamide in chemotherapy of bacterial infections. Dr. pharm. sci. diss. Moscow, 1983, 41 p.]
Щедеркина Е.Е. Основные патогенные свойства C. diphtheriae и усовершенствование лабораторной диагностики дифтерийной инфекции: дис. … канд. мед. наук. СПб., 2001. 20 с. [Shederkina E.E. The main pathogenic properties of C. diphtheriae and improvement of diphtheria infection laboratory diagnostic. Cand. med. sci. diss. SPb., 2001, 20 p.]