ASSOCIATION BEETWEEN IL-28β POLYMORPHISMS AND EFFECTIVENESS OF CONCOMITANT THERAPY OF HIV INFECTION IN PATIENTS WITH HCV/HIV CO-INFECTION DURING THE ANTIVIRAL THERAPY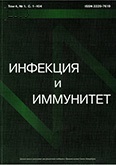 Authors: Kovaleva E.S.1
Affiliations:

State Educational Institution of Higher Professional Education Volgograd State Medical University, Volgograd

Issue: Vol 3, No 4 (2013)
Pages: 371-375
Section: SHORT COMMUNICATIONS
ID: 149
Cite item
Abstract
Abstract. The aim of the study was  to evaluate the associations between the polymorphism rs8099917 IL-28β and changing of HIV viral load and the effectiveness of high active antiretroviral therapy during the treatment of chronic hepatitis C in HIV-infected patients. 80 HIV/HCV-infected patients were recruited in the study. Antiviral therapy was performed with pegylated interferon-α and ribavirin combined with concomitant HIV therapy. Polymerase chain method was used for the gene polymorphism IL 28b (rs8099917) and HIV viral load estimation. More than half (56.25%) patients treated with combined therapy showed a significant decrease in CD4 T-lymphocytes in TG- and TT-genotype groups. Furthermore, viral load of HIV RNA significantly declined in the group with TT genotype during the treatment. It was concluded that rs8099917 polymorphism of the gene IL-28β affects the dynamics of the HIV RNA viral load in HIV-infected patients receiving concomitant therapy for treatment of viral hepatitis C. Herewith, rs8099917 polymorphism combined with other factors can be used as a predictor of high active antiretroviral therapy effectiveness.
About the authors
State Educational Institution of Higher Professional Education Volgograd State Medical University, Volgograd
Author for correspondence.
Email: katerina.cld@gmail.com

 Assistant Professor, Department of clinical laboratory diagnostics
400131, Russian Federation, Volgograd, Pavshikh Bortsov Sq., 1
Russian Federation
References
Арсентьева Н.А. Тотолян А.А., Семенов А.В. Роль полиморфизма генов цитокинов при вирусном гепатите С // Инфекция и иммунитет. — 2012. — Т. 2, № 4. — C. 687–698. Arsent`eva N.A. Totolyan A.A., Semenov A.V. Rol` polimorfizma genov tsitokinov pri virusnom gepatite C [The role of cytokine gene polymorphism in viral hepatitis C]. Infektsiya i immunitet — Infection and Immunity, 2012, vol. 2, no. 4, pp. 687–698.
Кравченко А.В., Ганкина Н.Ю., Канестри В.Г. Особенности антиретровирусной терапии при сочетании ВИЧ-инфекции и хронического вирусного гепатита // Фарматека. — 2008. — № 19 (173). — С. 10–17. Kravchenko A.V., Gankina N.Yu., Kanestri V.G. Osobennosti antiretrovirusnoy terapii pri sochetanii VICH-infektsii i khronicheskogo virusnogo gepatita [Special aspects antiretroviral combination therapy for HIV infection and chronic viral hepatitis]. Farmateka — Farmateka, 2008. no. 19 (173), pp. 10–17.
Alberti A.,Clumeck N., Collins S., Gerlich W., Lundgren J., Palù G., Reiss P., Thiebaut R., Weiland O., Yazdanpanah Y., Zeuzem S. (The ECC Jury). Short statement of the first European consensus conference on the treatment of chronic hepatitis B and C in HIV co-infected patients. J. Hepatol., 2005, vol. 42, no. 5, pp. 615–624.
Bica I., McGovern B., Dhar R., Stone D., McGowan K., Scheib R., Snydman D.R. Increasing mortality due to end-stage liver disease in patients with human immunodeficiency virus infection. Clin. Infect. Dis., 2001, vol. 32, pp. 492–497.
Clarc P., Thompson A., McHutchison J. IL 28B genomic-based treatment paradigms for patients with chronic hepatitis C infection: the future of personalized HCV therapies. Am. J. Gastroenterol., 2011, vol. 106, pp. 38–45.
Ge D., Fellay J., Thompson A.J., Simon J.S., Shianna K.V., Urban T.J., Heinzen E.L., Qiu P., Bertelsen A.H., Muir A.J., Sulkowski M., McHutchison J.G., Goldstein D.B. Genetic variation in IL-28B predicts hepatitis C treatment-induced viral clearance. Nature, 2009, vol. 461, pp. 399–401.
Kovaleva E.S. Association between IL-28β polymorphism and viral load of HIV RNA in patients with HCV/HIV co-infection during the antiviral therapy. Actual Problems of Experimental and Clinical Medicine: Proceedings of 71st opened scientific and practical conference for young scientists and students with international participation, 2013, pp. 160.
McHutchison J.G., Everson G.T., Gordon S.C., Jacobson I.M., Sulkowski M., Kauffman R., McNair L., Alam J., Muir A.J. Telaprevir with peginterferon and ribavirin for chronic HCV genotype 1 infection. N. Engl. J. Med., 2009, vol. 360, pp. 1827–1838.
Romano K., Ali A., Schiffer C. Avoiding drug resistance against HCV NS3/4A protease inhibitors. Antiviral. Ther., 2010, vol. 15, suppl. 2, pp. 189–192.
Soriano V., Puoti M., Sulkowski M. Care of patients coinfected with HIV and hepatitis C virus: 2007 updated recommendations from the HCV-HIV Internationals Panel. AIDS, 2007, vol. 21, pp. 1073–1089.
Thompson A.J., Muir A.J., Sulkowski M.S. Interleukin-28B polymorphism improves viral kinetics and is the strongest pretreatment predictor of sustained virologic response in genotype 1 hepatitis C virus. Gastroenterology, 2010, vol. 139, pp. 120–129.
Tural C., Solà R., Alvarez N.P., Moltó J., Sánchez M., Zamora A.M., Ornelas A., Laguno M., González J., von Wichmann M. Á., Téllez M.J., Paredes R., Clotet B. Effect of an induction period of pegylated interferon-α2a and ribavirin on early virological response in HIV-HCV-coinfected patients: results from the CORAL-2 study. Antivir. Ther., 2011, vol. 16, iss. 6, pp. 833–841.